Presents
Giselle – Ch Myriosa's Enchanted Blyss RN TD CD CGN

Sire: Am Can BIS
Ch Klaasem's Zoom Zoom Zoom OS Dam: CH Myriosa Watercolour In The Rain TDX OD Am TD CCA

14 February 2008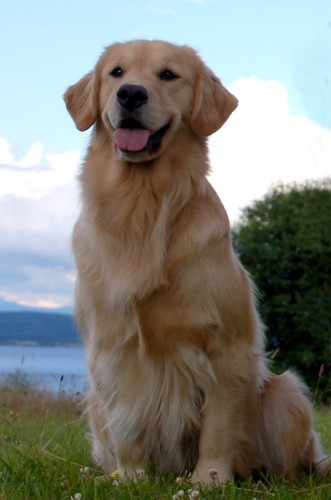 Giselle
17 months – BOB Vic City August 2009
Hard as it was to let Giselle leave my home somebody came along that I've known for years that really needed her more. Jim came to see her and the next thing I knew she was headed out the door (before I could change my mind I think).  Giselle is now leading a wonderful life in SIdney going for lots of walks and being a great companion. I miss her terribly but I do have visiting rights and I know she is very happy to be doing things each and every day.
——————————————————————————————————
Giselle was a sweetheart from the moment she developed her personality. To know her is to love her.
Her first time in the show ring was in late July 2009. Giselle placed second in her Sweepstakes Class and first in the 15-18 month class at the Golden Retriever Club of BC Specialty. The next day at the GRCC National Specialty she garnered a third place ribbon.
Her first serious weekend out looking for points was at the Victoria City Kennel Club Show in August 2009. She went Winners Bitch on Friday and much to my delight entered the ring the next day and went all the way to Best of Breed and made the cut down to six breeds in the Group. A wonderful accomplishment from the 12-18 month class when there were many handsome specials entered.
Giselle's second weekend of showing took us to the Skaha Kennel Club shows in Osoyoos on September 11-13th, 2009. My pretty girl was awarded Winners Bitch on Friday for three points and Best of Winners on Saturday for another three points for security. The judge on the Saturday remarked as she handed me the ribbon "Congratulations – she has a front". As a moveup on Sunday showing she won Best of Opposite Sex to her brother, Trystan who won the breed and made the cut in the group. I was so proud of my little girl!
In November 2010 Giselle took a crash course in Rally and waltzed in the ring to earn her RN finishing up with a High in Class. Good dog!!
March 20, 2011 found us making the three hour drive to Courtenay departing at 4 in the morning to participate in the FPOTC Tracking Test. Thanks to my friend, Lynn, who came along for the company as it made for a really fun day with a great group of people. Not only did we get to be out in the country on a beautiful day but I was the lucky handler at the end of the line as Giselle picked up speed on the first leg, waltzed around the first turn without out a moments hesitation and showed me that she really does know how to track by completing the last couple of legs in nice style. I was so focused on watching my dog that I didn't even see the glove until she was almost on it. Tracking is such an amazing sport. If you've never tried it you should check it out. The dog really is in charge (or they should be!).
May 2012 – Three entries and three qualifying scores in the 190's and Giselle & I earned her CD. She always makes me so proud.
Although Giselle had all her clearances and a beautiful temperament I was blessed with too many wonderful dogs and somehow didn't get around to breeding her when I should. She's now living in a retirement home and loving every minute.
Giselle's Pedigree

Parents
GrandParents
GreatGrandParents
SIRE

Ch Klaasem's Zoom Zoom Zoom     

 

Am Ch Daybreak's Varsity Jump OS

 

BIS CH Prospector's Klaasem Ooh La La

DAM

CH Myriosa Watercolour In The Rain TDX Am TD

CH Madisons Stack The Deck OS

CH Myriosa's Lady Of The Lake

CH Camalire High Chicago CDX WC Am CD

CH Camalire's Summer Crescendo CD OD
Click to see a five generation pedigree