Presents
Blyss – Ch Myriosa's Hopeful Romantic CD TD WC VC

Sire:
BIS BISS Am Can Ch Sweetgrass Clasical Legacy OS SDHF  Dam: Ch Lynkar Camalire Irish Lace CD

April 17, 1995 to February 13, 2009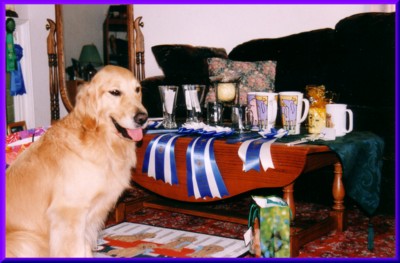 Blyss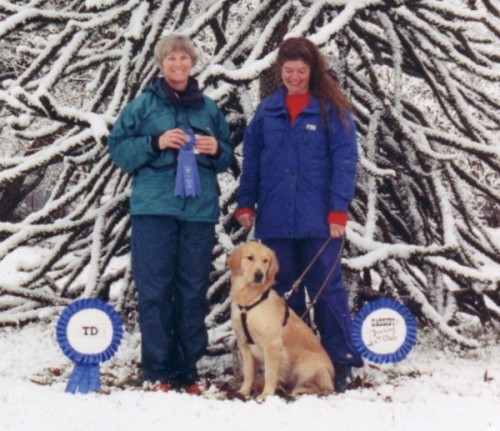 My very first tracking dog – way to go Blyss!
Achievements:
Blyss was the puppy I kept from my very first litter. She was my very first homebred champion with a group placement from the classes as well as my very first tracking dog. She earned the title in a snowstorm. Along the way we added a CD and a WC which made her the first to achieve the goal I hold for all my dogs – Lifetime Versatility.
When Blyss was six the opportunity came up for her to go and live with Joan, Stu and Broker MacDonald. This very special family offered a home where she would have far more attention than I could possibly give her. It was a very, very sad day when I heard that Blyss had gone to join Broker and her friend, Summer, at the Rainbow Bridge. Rest well, baby girl, you were always something special!
Pedigree of "Blyss – Ch Myriosa's Hopeful Romantic CD TD WC VC"

Parents
GrandParents
GreatGrandParents
SIRE

BIS BISS Am Can Ch Sweetgrass Clasical Legacy OS SDHF     

 

Am Ch Jenlyn's Fifth Avenue SDHF

 Am Can Ch Freedom's Celebration OS

Jayba's Hot Cayenne OD

Am Can Ch Sweetgrass Hills O Gold Honey CD

Ch Goldenquest's To Catch A Thief

Reddigold's Celebration

DAM

Ch Lynkar Camalire Irish Lace CD

Am Ch Asterling Go Get'm Gangbuster OS SDHF

Am Ch Birnam Wood's Mountin' Ash OS

Am Can Ch Amberac's Asterling Aruba OD SDHF

Ch Camalire Lynkar Crystal CD

BIS Am Can Ch Gretchen's Chivas Regal CDX WC OS SDHF

Ch Goldrange Camalire Reflection