Presents
Truly – Ch Myriosa's Dancing Through Life CD CGN

Sire:
Ch Myriosa All Blyss'N Heaven Too AGNS AGNJS NAC TG-N TN-N NCC OJC NAP Dam: CH OTCH Myriosa's Life Is A Journey TD RAE AGIS AGIJS CGN AM RE NAP NAJP CCA NAC
Born
September 2, 2011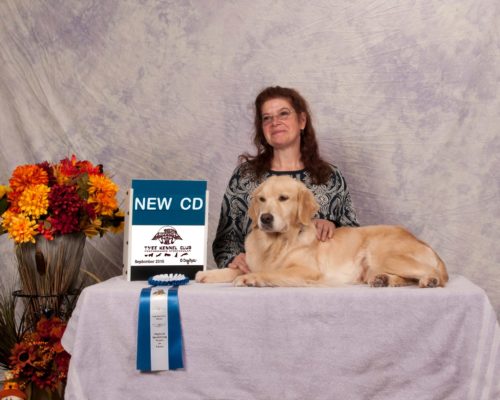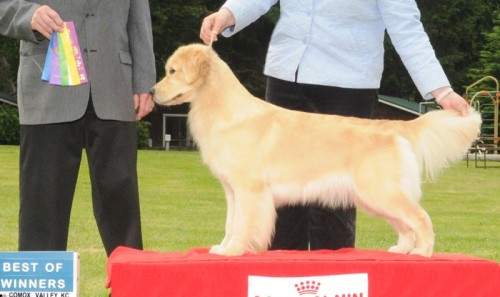 First Points – June 2013
Achievements:
At exactly six months old Truly went to her first dog show, won her sweeps class & picked up a reserve ribbon. She had a lovely puppy career and earned a second overall in the Vic City Puppy Sweeps and several other placements and pink reserve ribbons.
June 2013 – Truly was awarded Best of Winners the first day at the Comox Valley Dog Show for her first four points.
June 2014 – We went back to our favourite dog show and Truly won again with her buddy Aislynn handling.
August 2014 – A whirlwind trip to Campbell River netted another win to finish and the next day a Select win to start her Grand. She went in again at Vic City and brought home some more.
Sept 2014 – Truly came along on a trip up to Kamloops to meet my sister and chalked up a few more points towards her grand. Such a good girl. She now has everything she needs but the breed win. There are so many fun things to do that I'm not sure we will bother. :o)
April 4, 2016 – Truly's first litter was born. We have five lovely puppies from Henry – Am Ch ThorneLea's Oh Henry TD CGN. Three boys & two girls. She is a wonderful and devoted mother.
Sept 2016 – A couple of weeks ago Truly had her fifth birthday. That reminded me that time was passing by so we entered the Tyee Obedience Trials. Truly was a very good girl and qualified in her first three trials to earn her CD. Although she found the mats slippery and didn't want to sit she still managed to score perfect points on her heel free her very first time in the competition ring. So proud of my little girl. I can't wait to start teaching her more things. We have a lot of fun together.
Pedigree of "Truly – Ch Myriosa's Dancing Through Life"

Parents
GrandParents
GreatGrandParents
SIRE

Ch Myriosa All Blyss'N Heaven Too AGNS TG-N TN-N     

 

 BIS/BISS Can/Am Ch Klaasem's Zoom Zoom Zoom Can SDHF Can/Am OS

 Am Ch Daybreak Varsity Jump OS

 BIS Ch Prospector's Klaasem Ooh La La
 Ch Myriosa Watercolour In The Rain TDX OD Am TD CCA
Ch Madisons Stack The Deck OS
 Ch Myriosa's Lady Of The Lake

DAM

Ch Myriosa's Life Is A Journey TD CDX RE AGIS AGNJS AM RN CCA

 Am Ch Laurell's Goin' Great Guns OS SDHF
 BISS AM Ch Asterling Go Getm Gangbuster OS SDHF
 Am Ch Laurell's Final Play OD
 Ch Spiritlodge Lyrical Finnish
 WW-00 EuW-00 FinW-99 ITW-00 PLW-00 CIB Fi Ch Lorinford Harlequin
 Spiritlodge What A Little Gem