Presents
Tasia – Ch Myriosa Watercolour in the Rain TDX Am TD CCA OD

Sire:
Ch Madisons Stack the Deck OS  Dam: Ch Myriosa's Lady of the Lake

September 16, 2000 – September 18, 2011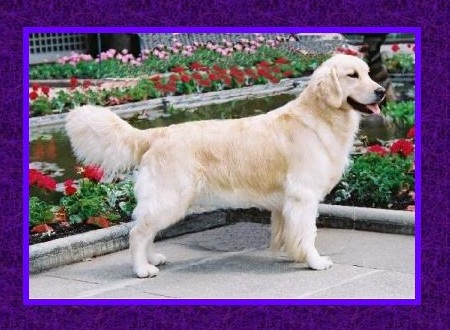 Tasia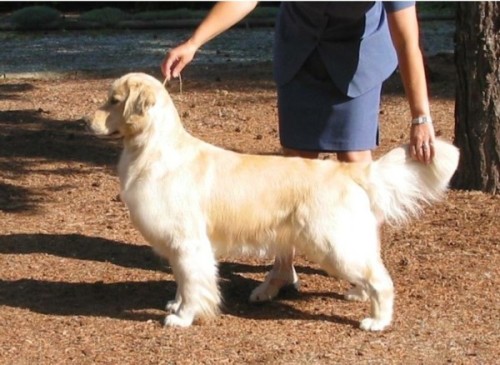 age 2
Achievements:
It's with a very heavy heart that I have to share news of the loss of my very special girl – Tasia. Always sweet, always loving and always a treasure.
Tasia slipped quietly from this world on Sunday night, September 18th. She enjoyed her supper and lay down in the kitchen for a nap. When I came back into the room a couple of hours later she had quietly passed away. A lovely way for her but a very hard loss for me. Her daughter, Giselle, was laying next to her so I know it was a very peaceful passing. She will be missed.
A bit about my special girl:
Tasia's structure stood out right from the start. Her first day in the ring at seven months she went reserve and took home a Best Puppy in Group Rosette.
At ten months she was Best of Winners and Best Puppy at the Golden Retriever Club of British Columbia Specialty.
She went on to finish her championship with three five-point wins.
I started tracking with her when she was about four months old and she loved it so much that it has become her favourite pastime. She easily earned her TD, TDX and American TD titles on the first try.
On top of all of this she has an exceptional temperament and is a joy to live with.
Tasia has been playing at urban tracking and having puppies the last few years but decided she would like to go to the American National in 2007 so I entered her in the CCA program. To my delight she passed with flying colours and I learned a tremendous amount too.
August 2010 – In 2006 I bred Tasia to Zoom – AM/Can Ch Klaasems Zoom Zoom Zoom OS SDHF and she gave me three wonderful puppies. I thought they were so nice that the next year I repeated the breeding and Tasia had four more on February 14, 2008. Exactly fourteen months apart in age these puppies have excelled at everything they've tried and have now made Tasia an Outstanding Dam. All seven are titled, five are Canadian Champions and a sixth is pointed. They do everything from obedience, agility, tracking and Faith and Ginny find the time to participate in a School Reading Program. Their looks and temperaments make them wonderful representatives of the breed. I can't thank their owners enough for all that they do.
You can see them on this website. Rianna, Trystan & Giselle live with me and Dylan, Auryn, Lhasa & Faith have pages in the 'And…' section. All five of the champions have been shown by myself and the performance titles are the work of their owners. Huge thanks to Susan and Zoom for making these wonderful puppies possible. Now on with the fun!!
Pedigree of "Tasia – Ch Myriosa Watercolour in the Rain TDX Am TD CCA OD"

Parents
GrandParents
GreatGrandParents
SIRE

Ch Madisons Stack the Deck OS     

 

Ch Verdoro's Justice For All OS

 BIS Ch Shaynedoro's Judge and Jury OS SDHF

Ch Goldsmith's Golden Opportunity OD

Ch Collinterra's Brazen Callie OD

Ch Shaynedoro's Just-In-Time

Rayshar's Collinterra Katie

DAM

Ch Myriosa's Lady of the Lake

Ch Camalire High Chicago CDX WC Am CD

Am Ch Asterling Austin-Healey

Beckwith's Kvamme Just Ducky OD

Ch Camalire's Summer Crescendo CD OD

BIS Am Can Ch Sweetgrass Clasical Legacy

Ch Aylwyn's Keypsake of Camalire