Presents
Violet – Group Winner CH Myriosa's Wish You Go Well

Sire:
Ch Myriosa Summer Dream Come True CD CGN  Dam: CH OTCH Myriosa's Life Is A Journey TD RAE AGIS AGIJS CGN AM RE NAP NAPJ CCA

10 April 2009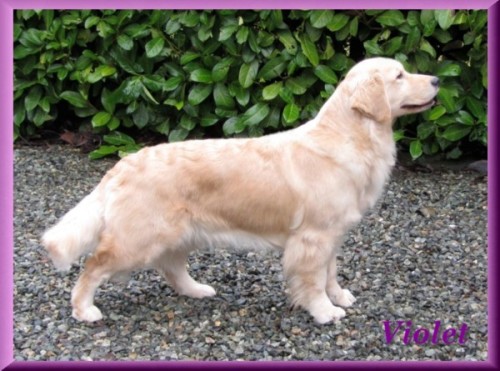 Violet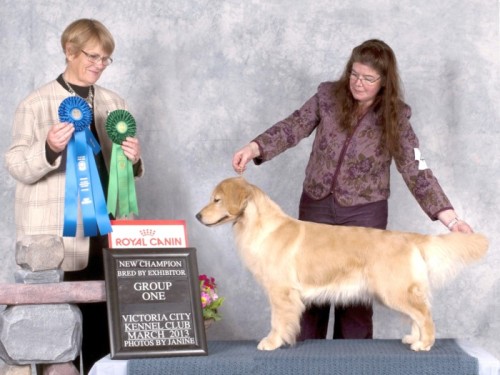 Group One from the classes
My lovely Violet has gone to live with her new friend Leslie. I couldn't possibly give her all the fun and enjoyment that Leslie can and from the pictures I've received I would have to say that a good time is being had by all. Thank you so much Leslie for making Violet's dreams come true. She really wanted to be someone's special dog and I am so happy that you came into her life and made that happen.
—————————————————————————
Meet Violet from Amelia's first litter. Her father, Darby, was my last available Summer son and Violet and her brother delight me every day with the little things that remind me of their grandmother. Violet squints her eyes when she smiles at me in just that same way.
Violet's first day in the showring at 15 months of age was for the BredBy Competition at the VicCity Shows in August. Despite the pouring rain and the fact that she hippity-hopped around the ring like the Easter Bunny she was awarded Reserve Winners Bitch and Best BredBy Exhibitor in Group. When the time comes we are going to have a lot of fun!!
October 2012 – Violet is working on her tracking and learning to be an agility dog. We went to Port Alberni this past weekend for two days of shows where Violet won the Open Bitch class both days and went Winners Bitch on the second for her first three points.
March 2013 – Violet had a marvelous weekend at the Vic City Kennel Club shows. On Friday she picked up 2 more points for Winners Bitch and on Saturday Lyn Norman from Australia awarded her Winners Bitch, Best of Breed and BEST IN GROUP to make her a new champion! The judge told me she "just loved her" and that she had "all the right things in all the right places". Truly a remarkable day made even more memorable by great friends who supported us throughout the day. Thank you!!
Pedigree of "Violet – Ch Myriosa's Wish You Go Well"

Parents
GrandParents
GreatGrandParents
SIRE

Ch Myriosa Summer Dream Come True CD CGN     

 

Ch Spiritlodge Who's Sorry Now

  Ch Madisons Stack The Deck OS

Ch Spiritlodge Right Lee So

Ch Camalire Summer Crescendo CD OD

Am Can Ch Sweetgrass Clasical Legacy OS SDHF

Ch Aylwyn Keypsake of Camalire

DAM

Ch Myriosa's Life Is A Journey TD CDX RAE AGIS AGIJS CGN AM RA NA NAJ CCA

Am Ch Laurell's Goin' Great Guns OS SDHF

Am Ch Asterling Go Getm Gangbuster OS SDHF

Am Ch Laurell's Final Play OD

Ch Spiritlodge Lyrical Finnish

WW"00 EW"00 Multi Ch Lorinford Harlequin

Spiritlodge What A Little Gem
Click to see a five generation pedigree