Presents
Amelia – CH OTCH Myriosa's Life Is A Journey TD RAE AGIS AGIJS CGN Am RE NA NAJ CCA NAC NJC TN-N

Sire:
Am Ch Laurell's Goin' Great Guns SDHF OS  Dam: Ch Spiritlodge Lyrical Finnish

22 May 2005 to 5 June 2021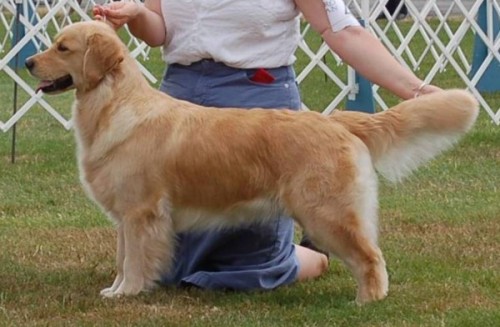 Amelia – 2nd US Major – August 2008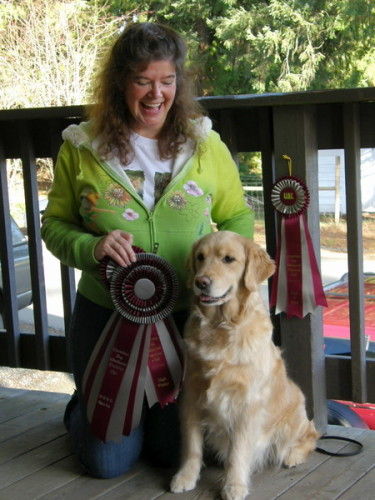 HIT finishing her CLUB CD – Oct 2009
Achievements:
Amelia was chosen and named the day she was born. She just had a certain something that I couldn't resist. The litter was born on the Victoria Day weekend so their puppy names were royalty both from the movies and history. She is named after Princess Amelia in the Princess Diaries.
As she was born in May and eligible to show in November I didn't have the opportunity to take her out much as a puppy. We did attend the Tyee Dog Show just before her first birthday where she was awarded Reserve Winners Bitch and earned a Best Puppy in Group.
One year later our first show as an adult was at Tyee again. What a fun weekend! We earned two Reserve ribbons and her first points while running between the conformation and agility rings where I was also competing.
Two weeks after that at VIDFA she was awarded Winners Bitch by Michael Hill, Best of Winners by C Rafton from Australia and Best of Winners by Michelle Billings to complete her championship completely owner handled.
My thanks to all of Amelia's friends and supporters. It was truly a weekend to remember! Indeed, life is a journey!!
In August Amelia and I went to her first CKC agility trial. She certainly enjoyed herself and came home with four Novice 'Q's and four first places to earn her first agility title.
In September we went to the American National Specialty in Snohomish Washington. My first ever! To my delight Amelia qualified for her Certificate of Conformation Assessment and totally surprised me by making it to the final cut in Bred By Exhibitor Bitches. In an enormous class we made it through two cuts and were in the final six! Amelia has absolutely no coat so we showed just for fun but there was something there the judge liked. :o)
One week later we were back home and trying for our Tracking Dog title. Amelia drew first track and sped through it in record time. Up hill and down dale as fast as she could make me go!!
Thankyou Kiri and Gunner for producing this very, very special girl!
In the summer of 2008 – Amelia & I began to venture south of the border. On her first trip to Hurricane Ridge she won a large open class and went reserve. Very exciting stuff!
On August 16th & 17th we went down to the Olympic Kennel Club shows where Amelia managed to win majors both days. The first from Michael Faulkner and the second from Honey Glendinning. It was an absolutely unbelievable weekend that I will never forget! There is nothing quite like showing your own dog. Amelia you are a gem!!  Many thanks to all of the people who cheered us on ringside and were so very kind. Special thanks to my travelling buddy, Catherine, who always assumes we can win!!! :o))))
October 2009 – After doing an amazing job raising her first litter of puppies by Darby – Ch Myriosa's Summer Dream Come True CD CGN who were born April 10th Amelia and I finally got back to training. She earned her Club CD in three straight trials finishing with a High In Trial on October 31st.
May 2010 – Amelia earned her CD, her RA & the first leg on her RE all on the same weekend. Busy, busy, busy!!
August 2010 – At the Vic City Trials Amelia earned the last two legs for her RE.
September 2010 – Off to Colorado for the American National. Amelia did me proud earning her first leg in AKC Novice Jumpers and Standard Agility and her second RA leg too!
November 2010 – We went to the Forbidden Plateau Rally Trials and earned three RA/RE legs towards her RAE with several high in classes and placements.
Six years later – I noticed that I hadn't updated this page. Amelia has done so much in her life and we are still training and enjoying hanging out together. She has earned my much dreamed of Obedience Trial Champion title otherwise known as a Utility Dog. My very first. On top of that she earned her RAE without ever failing a trial, added her novice agility titles in the US and an Rally Excellent title down there too. Through it all she has been a joy to work with and I've seen the smiles she has brought to so many people's faces. Sometimes I wonder how I could possibly have been so lucky. Now I just hope she stays with me for as long as she can. Oh and she tells me she still loves to be a show dog too. She smiled her way around the show ring to win the Veteran's Sweepstakes at the BC Specialty at the ripe old age of eleven. Life is a journey but Amelia is a gift.
We went back to the National and BC Specialty the following year where Amelia won her veteran's class at the National and the following day earned Best Veteran in Specialty Show and a Judges Award of Merit from Honey Glendinning. Honey assured me that we weren't the sixth JAM at all. We were just at the very end of the line. I think she was delighted to know that she had given Amelia a major in the US so many years before and I was delighted to be in the ring again with this amazing dog.
I do know how very lucky I was to have Amelia in my life. To get to keep her to the ripe old age of sixteen was an incredible thing. At that point her rear legs were letting her down and I knew the time had come to say goodbye until we meet again. I miss her every single day but hope that she's watching over all of us.
Pedigree of "Amelia" – CH OTCH Myriosa's Life Is A Journey TD RAE AGIS AGIJS CGN Am RE NA NAJ CCA NAC NJC TN-N

Parents
GrandParents
GreatGrandParents
SIRE

Am Ch Laurell's Goin' Great Guns SDHF OS     

 

Am Ch Asterling Go Get'm Gangbuster OS SDHF

  Am CH Birnam Wood's Mountin' Ash OS

BISS BIS Am Can CH Amberac's Asterling Aruba SDHF OD

Am Ch Laurell's Final Play OD

Am Can CH Goldwind's All The Right Moves OS

Am CH Laurell's Yats Of Luck OD

DAM

Ch Spiritlodge Lyrical Finnish

Multi Ch Multi W, WW-00 EUW-00 Lorinford Harlequin

Eng SH CH Lorinford Lancelot

Lorinford Lovestory

Spiritlodge What A Little Gem

CH Madisons Stack The Deck OS

CH Spiritlodge Right Lee So
Click to see a five generation pedigree