Presents
Dante – Ch Myriosa's Candle On The Water WC TD CD RN CGN VC

Sire:
Ch Madison's Stack the Deck OS  Dam: Ch Myriosa's Lady of the Lake

16 September 2000 – 17 November 2009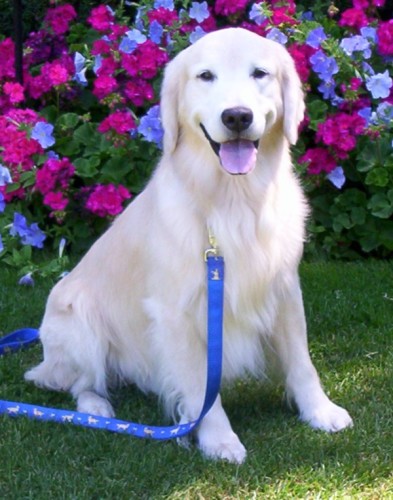 Dante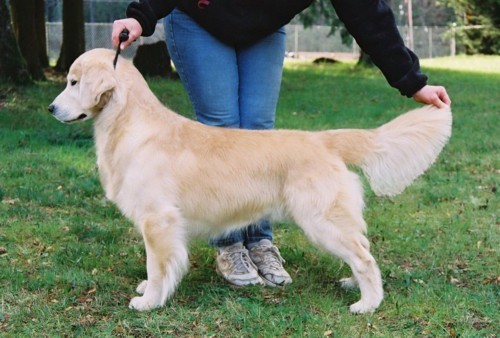 Achievements:
Dante was a very special dog that I was blessed to have in my life. When he was five months old he had flu like symptoms for a day and life was never the same. For three months he and I went back and forth to the vet trying to determine what was wrong. By eight months of age he was thin and sickly. Then came the day he refused the chicken I was hand feeding him. I knew something was seriously wrong this time and took him straight to the vet. The next morning he had surgery that saved his life. What my vet found was that Dante's intestine had been telescoping in and out on itself and had finally become totally blocked. It was very close to perforating. This condition is called an intussusception and isn't hereditary but is certainly life threatening! During the surgery my vet had to remove 24 inches of large and small intestine and stitch the ends back together. When I got Dante home a day later it was obvious how much better he felt and it was just so wonderful to have my happy little boy back again.
Once Dante felt better we began to do all the things he had showed such promise for as a little puppy. He earned his WC at around eighteen months and then his TD in 2003. His Club CD was completed in the spring of 2004 finishing with a 197 and High in Trial. He earned a leg of his CKC CD at the 2004 Canadian National Specialty held in Calgary and we ran from the obedience ring straight into the conformation ring where he won the Bred By Exhibitor male class. What a guy!
Back in Victoria at the Victoria City Show held in August Dante earned points towards his championship under Honey Glendinning who later awarded him Best Bred By Exhibitor in Show. This is a new trophy to be awarded each year in memory of a lovely lady, Marlene Collins, who was kindness itself to those starting out in the dog world. I was honoured to have Dante be the first winner.
In October we attended the FVDF show in Vancouver where Dante earned the final points he needed to be a Champion and a Lifetime Versatility Dog.
We continued working on various titles until Dante became sick again. After a horrible weekend in intensive care the tests revealed that he had toxoplasmosis. The damage caused meant that Dante spent the next few years running things at home and being the sweet boy he always was.
In the spring of 2009 I took him out and he earned his Rally Novice title with some lovely scores. I don't think his tail stopped wagging once. Such a sweetie!
In early November I noticed that Dante was having tired moments. My heart dropped and a trip to the vet revealed that he likely had hemangio. We had the most wonderful ten days together that I could give him. He came to work, carried stuffed animals everywhere and delighted all he met. Early in the morning of November 17th he called me and within twenty minutes he was gone. It was just like Dante to make it as easy as he could on me. Bless you little man. You were truly remarkable.
Dante's registered name is from a very special song featured in the movie "Pete's Dragon". I think the words fit him perfectly. My favourite verse goes like this:
I'll be your candle on the water
'Till every wave is warm and bright
My soul is there beside you
Let this candle guide you
Soon you'll see a golden stream of light!
Pedigree of "Dante – Ch Myriosa's Candle On The Water WC TD CD RN CGN VC"

Parents
GrandParents
GreatGrandParents
SIRE

Ch Madison's Stack the Deck OS     

 

Ch Verdoro's Justice For All OS

 BIS Ch Shaynedoro's Judge and Jury OS SDHF

Ch Goldsmith's Golden Opportunity OD

Ch Collinterra's Brazen Callie OD

Ch Shaynedoro's Just-In-Time

Rayshar's Collinterra Katie

DAM

Ch Myriosa's Lady of the Lake

Ch Camalire's High Chicago CDX WC Am CD

Am Can Ch Asterling Austin-Healey SDHF OS

Beckwith's Kvamme Just Ducky OD

Ch Camalire's Summer Crescendo CD OD

BIS BISS Am Can Ch Sweetgrass Clasical Legacy OS SDHF

Ch Aylwyn Keypsake of Camalire