Presents
Rianna – Multi BPIS GR CH Myriosa's Raindrops On Roses CD RN BISS CCA

Sire:
Am CH BISS Can CH Klaasem's Zoom Zoom Zoom OS Dam: CH Myriosa Watercolour In The Rain TDX Am TD OD

December 14, 2006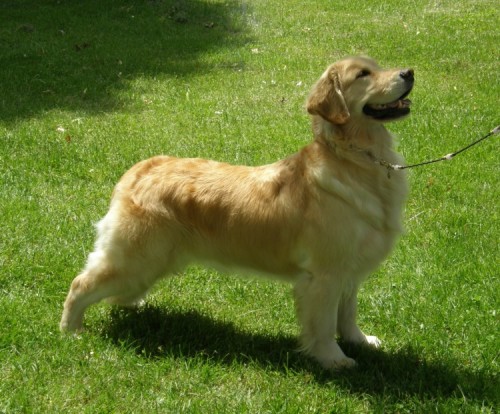 Rianna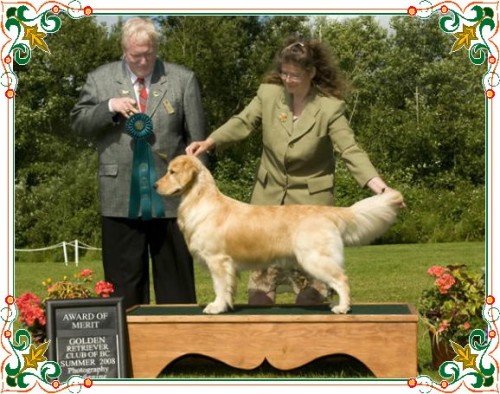 Nineteen Months Old – JAM GRCBC Specialty
Achievements:
I am so proud that this lovely girl comes down from the combination of my two very special dogs – Rio and Summer. What a dream come true she is. Her name comes from the song in the "Sound of Music" and she is certainly a favourite. :o))
Her show career has been all that I could dream of and more. Her first points were earned at six months and two days old and she became a champion from the junior puppy class with only three sets of points. Her puppy career included three Best Puppy In Shows, ten Best Puppy In Groups and an Adult Group Second. Rianna was awarded Show Puppy of the Year for 2007 by the Golden Retriever Club of British Columbia.
When I couldn't take her myself I sent her puppy self to the shows with Brenda Beadnell. I knew that she would have the best care and attention and Brenda really made Rianna shine. Thankyou Brenda! It was so worth the effort!
Things just get better and better for us. Venturing into the ring again at two of the 2008 spring shows Rianna was Best Opposite twice, Best of Breed twice and brought home a Group Fourth in tough competition completely owner-handled.
At the GRCBC Specialty in July of 2008 Rianna was awarded the first Judge's Award of Merit by Australian Bruce McLean. Life is good!!!
With time always being in short supply I had a lot of lovely dogs to finish coming along behind Rianna so she didn't come out much as an adult. We did play in obedience and rally and earned her CD and her RN and a Select win on the BC Specialty weekend at the age of 6 just for fun.
She was a wonderfully healthy dog right up until the end. Passing away just before her fourteenth birthday. Thanks for the amazing memories Rianna.
February 2023 – I noticed that on the new CKC website in My Dogs Rianna had a lot of Grand Champion points listed. A little research and a few times asking the CKC and she was awarded her Grand Championship. Who knew? We are celebrating a very lovely girl who actually became a Grand Champion in August of 2013. Check your listings!
Rianna's Pedigree

Parents
GrandParents
GreatGrandParents
SIRE

Am CH BISS Can CH Klaasem's Zoom Zoom Zoom     

 

AM CH Daybreak Varsity Jump OS

 BISS Am BIS Can BIS Bda CH Cherrybrook Touchstone JH WC SDHF OS

Can CH Claircrest Daybreak Archetype

BIS CH Prospector's Ooh-La-La

Am BIS Can CH Waynewood's Classic Gold Am Can OS

Am Ch BIS Can Ch Prospector's Tribute To Sierra OD SDHF

DAM

CH Myriosa Watercolour In The Rain TDX Am TD OD

CH Madisons Stack The Deck OS

CH Verdoro's Justice For All OS

CH Collinterra's Brazen Callie OD

CH Myriosa's Lady Of The Lake

CH Camalire High Chicago CDX WC Am CD

CH Camalire's Summer Crescendo OD
Click to see a five generation pedigree