Presents
Dylan – BPIG Ch Myriosa's Rainbow Connection CDX

Sire:
AM CH BISS CAN CH Klaasem's Zoom Zoom Zoom OS  Dam: Ch Myriosa Watercolour In The Rain TDX Am TD CCA

December 14, 2006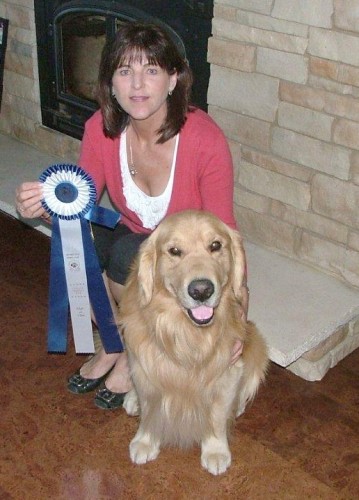 Dylan & Laurie – new CDX
Achievements:
2013 – I'm very proud to announce that Dylan and Laurie have won the Hudson Memorial Trophy for the top scoring dog in all of the Association of Island Obedience Clubs. This is a huge achievement and I am so very proud of both of them. What a team!!
August 6, 2011 – Laurie & Dylan stepped into the obedience ring again at the Vic City Shows. They earned their third leg in the first trial to finish his CDX and a bonus pass on the same day. Well done!:o))
May 28 & 29th, 2011 – Laurie & Dylan entered the Open obedience ring for the first time this weekend and took home two great Open passes scoring 196 1/2 both times. They are a lovely team together and I was so proud of them both! That CDX is just one pass away!
August 7th & 8th, 2009 – Laurie & Dylan entered the Novice A class at the Victoria City Kennel Club shows and went home with a shiny new CD, great scores and High in Class rosettes.
May 8th & 9th – At the first show of the year, Tyee Kennel Club, Dylan went Best of Winners both days to complete his Canadian Championship. Woohooo!!
March 2009 – Dylan and Laurie have just completed their Club CD. :o) Three passes, three Highest Qualifying Score in Novice A rosettes. Way to go Laurie!! They are an absolutely wonderful team together.
August 2008 – Dylan went to his first shows as an adult and garnered four points towards his championship. Way to go – Dylan!!!
Dylan is co-owned with Laurie Kelly and is growing up to be a very handsome boy.
At his first dog show just before turning eight months old he won his class twice, was awarded Reserve Winners Male, Best Puppy in Breed and went on to win the Best Puppy in Group! He really can Zoom like Dad.
Pedigree of "Dylan – BPIG Ch Myriosa's Rainbow Connection CDX"

Parents
GrandParents
GreatGrandParents
SIRE

AM CH BISS CAN CH Klaasem's Zoom Zoom Zoom OS     

 

AM CH Daybreak's Varsity Jump OS

  BISS Am BIS Can BIS Bda CH Cherrybrook Touchstone JH WC SDHF OS

Can CH Claircrest Daybreak Archetype

BIS CH Prospector's Klaasem Ooh La La

Am BIS Can CH Waynewood's Classic Gold Am Can OS

Am Ch BIS Can Ch Prospector's Tribute To Sierra OD SDHF

DAM

Ch Myriosa Watercolour In The Rain TDX Am TD CCA

CH Madisons Stack The Deck OS

CH Madisons Stack The Deck OS

CH Collinterra's Brazen Callie OD

CH Myriosa's Lady Of The Lake

CH Camalire High Chicago CDX WC Am CD

CH Camalire's Summer Crescendo CD OD