Presents
Westley – Group Winner Grand CH Myriosa's This Is My Wish CGN

Sire:
CH Myriosa Summer Dream Come True CD CGN  Dam: CH OTCH Myriosa's Life Is A Journey TD RAE AGIS AGIJS Am RE NAP NAJP CCA

10 April 2009 – 10 Nov 2018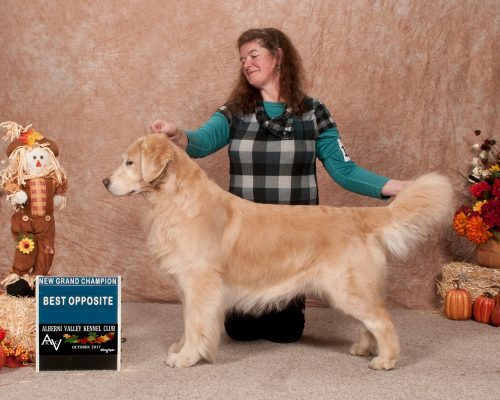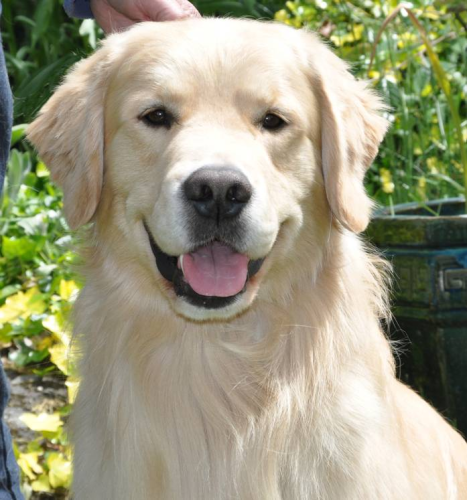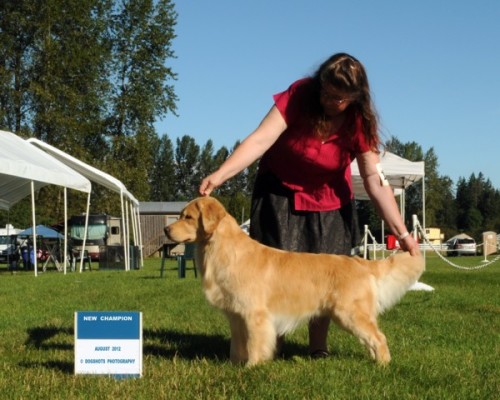 New Champion – August 2012
Achievements:
2017 At eight years old I decided that if we were ever going to finish that Grand Championship it was time to start. Westley picked up a Select win in a single day road trip to Courtenay in June, another Select on a day trip to Campbell River in August and a Best Opposite win on yet another single day entry at Port Alberni. So excited to have it finished and so proud of this boy who enjoyed being out in the ring again and strutting his stuff. The best part was that his favourite Aunty was there to see it.
There was a CGN test put on by my club so I dusted Westley off and out we went. He did very nicely and finally added a title to the end of his name.
2015 – Shown very occasionally Westley has picked up a group placement or two and is a few points away from his Grand Championship. Of course he loves cuddling on the couch the best.
September 2014 – I went to meet my sister at the Kamloops shows as she had flown out for the Flatcoat National. For fun I put Westley in as a special. On the first day, with me handling, Westley won the breed, the group (with 100 dogs entered) and went on to Best Owner Handled in Show under breeder judge Doug Windsor.
 August 2012 – First day in at the Campbell River Show Westley went Best of Winners at the booster to finish his championship in fine style!
June 2012 – Another point at the Blackcreek Shows! We are almost there.
May 2012 – Westley has begun his show career. At the VIDFA shows he went Best of Winners on Thursday for his first four points and Best of Winners again on Saturday for another four with my friend, Catherine, handling. Still pinching myself. :o)))) He really has a handsome face. Dawn and I are very proud of Darby & Amelia's little boy!
Who could resist this guy! Not me! Somehow or other he's still here and has wrapped his paws around my heart.
With a fair amount of his father's charm and showing signs of looking like Uncle Flyer & Grandma Summer he shows lots of promise.
Pedigree of "Westley – Ch Myriosa's This Is My Wish"

Parents
GrandParents
GreatGrandParents
SIRE

Ch Myriosa Summer Dream Come True CD CGN     

 

Ch Spiritlodge Who's Sorry Now

 CH Madisons Stack The Deck OS

CH Spiritlodge Right Lee So

Ch Camalire's Summer Crescendo CD OD

Am Can Ch Sweetgrass Clasical Legacy OS SDHF

Ch Aylwyn Keypsake of Camalire

DAM

CH OTCH Myriosa's Life Is A Journey TD RAE AGIS AGIJS CGN etc

Am Ch Laurell's Goin' Great Guns OS SDHF

Am Ch Asterling Go Getm Gangbuster OS SDHF

Am Ch Laurell's Final Play OD

Ch Spiritlodge Lyrical Finnish

WW"00 EW"00 Multi Ch Lorinford Harlequin

Spiritlodge What A Little Gem
Click to see a five generation pedigree