Presents
Journey – Ch Myriosa Journey Of A 1000 Miles TD AGNS CD EAS NCC OJC TNS-E TG-O WV-N VerN AmTD

Sire:
Am Ch Laurell's Goin' Great Guns SDHF OS  Dam: Ch Spiritlodge Lyrical Finnish

May 22, 2005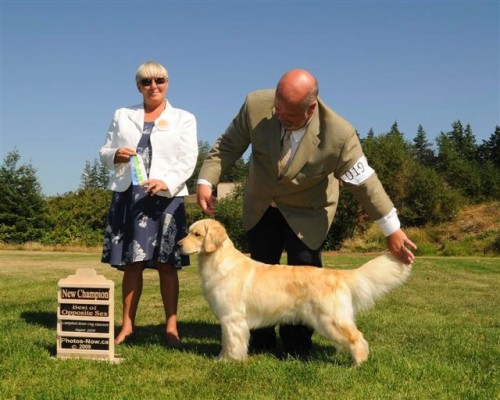 Journey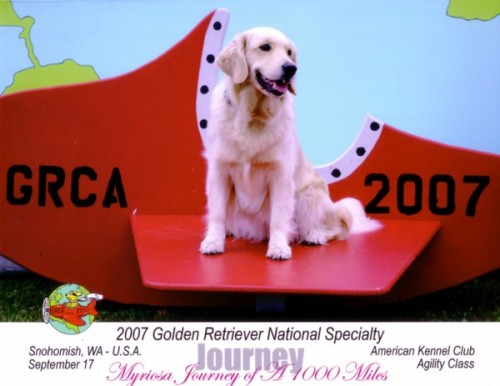 Journey at the National
Achievements:
I am delighted to annouce that on August 2, 2009 Journey completed her Canadian Championship with the help of my friend, Andrew Coss, who piloted her to her final point under Swedish Judge Lena Stalhandske. Now Journey and Kristiina can concentrate on tracking, agility & obedience where they both excel. I am so proud of this wonderful little girl.
August 2008 – Journey and Kristiina are flying around the agility ring. At the ScallyWags NADAC trial Journey finished three more agility titles. Woohooo!!!
May 2008 – Back in the show ring for the first time since last summer Journey went Group One from the BredBy class under breeder judge Doug Windsor. Handled the whole way by myself and with Kristiina there to see it. What a great day!!!
August 2007 – Journey has begun her show career. She went reserve to a five point win in tough competition at the Victoria City Kennel Club shows.
On May 12th, 2007 at the Tyee Kennel Club trials Journey and Kristiina earned their CKC Agility Novice (AGNS) going three for three.
Sept 2007 – Journey and Kristiina went to the GRCA National and passed their TD as well as earning first place in agility in the Preferred Novice Jumpers with Weaves. Go girls go!!!
On November 4th, 2006 while brother Camden was earning his JH in Florida, Journey was earning her TD in Vancouver. Congratulations Kristiina and Journey. Well done!!!
Journey is a very special puppy who is lucky enough to be loved and cared for by Kristiina Ovaska.
Pedigree of "Journey – Ch Myriosa Journey Of A 1000 Miles TD AGNS CD EAS NCC OJC TNS-E TG-O WV-N VerN AmTD"

Parents
GrandParents
GreatGrandParents
SIRE

Am Ch Laurell's Goin' Great Guns SDHF OS     

 

BISS Am CH Asterling Go Get'm Gangbuster SDHF OS

  Am CH Birnam Wood's Mountin' Ash OS

BISS BIS Am Can CH Amberac's Asterling Aruba SDHF OD

Am CH Laurell's Final Play OD

Am Can CH Goldwind's All The Right Moves OS

Am CH Laurell's Yats Of Luck OD

DAM

Ch Spiritlodge Lyrical Finnish

WW"00,EW"00,MULTI CH & MULTI W Lorinford Harlequin

Eng SH CH Lorinford Lancelot

Lorinford Lovestory

Spiritlodge What A Little Gem

CH Madisons Stack The Deck OS

CH Spiritlodge Right Lee So